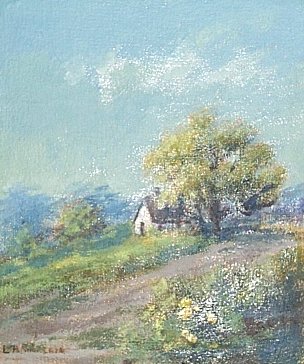 PET PORTRAITS, LANDSCAPES, STILL LIFE & more.
As a professional artist of many years standing, I mainly specialise in Pet Portraits (Dogs, Cats, Horses) and Landscapes, Seascapes and Still Life.
I have exhibited my paintings all over the UK and they have found homes all over the world. I paint in Acrylic, Pastels, Oils and Watercolour.
For this site I am happy to take commissions for Pet Portraits, which I paint in Acrylic on Canvas and these come in two sizes: 16" x 12" (approx. 41cm x 31cm) and 14" x 10" (approx. 36cm x 26cm). You also have the choice of receiving the painting with or without a frame. I use a good quality narrow white frame which makes the Pet Portrait stand out.
You can normally expect to receive the finished item approximately within four weeks, although nearer Christmas I tend to receive extra orders, so a little more time should be allowed to ensure you receive the painting by then.
w v w v w v w v w v w v w v w
For examples of some of the Pet Portraits I have been commissioned to produce, please have a look at the Gallery Page.
I am usually given photographs to work from, and prefer that they show your dog or cat in a sitting position. Other photographs are helpful if they show a particular expression you like in your pet, or to show their colouring and markings more accurately. We can also discuss more specific requirements if you have them. All photographs sent to me will be returned along with your finished painting.
Of course, if you have two or more pets, these can be added to the painting although you might prefer to have individual portraits painted of each of your pets. Whichever combination you require, I will do my best to accommodate your wishes.
For further details, prices and postage etc., please check the Prices and Sizes Page and Order Page.
w v w v w v w v w v w v w v w
For a link to Dog Club - the Internet Dog Directory, please click on the banner below.